Why Hire a Virtual Receptionist?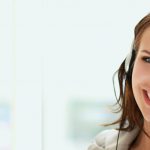 Imagine a world where your business no longer has to deal with the hassle of hiring new employees—something that, let's be honest, isn't everyone's favorite task. This may sound like an outlandish concept; however, having a "virtual receptionist" enables businesses to get that much closer to this utopian idea. Having a virtual receptionist is an ideal way to cut costs, increase customer satisfaction, and increase availability for just about any business. It may seem like a risk to reduce real human-interaction in your company, but the benefits of going virtual far outweigh the detriments.
The concept of a virtual employee seems foreign in some respects, but incorporating them into your business can be highly beneficial. Virtual Receptionist services relieve the pressure of adopting huge overhead increases brought on by medical benefits and vacation time—simply put; virtual receptionists are outsourced trade service, and hiring a service cuts a tremendous amount of human resource expenses, and saves time and spares inconveniences. Your business will be unaffected by vacations, sick days, or other excuses because virtual receptionist services guarantee that someone will answer your phone 24 hours a day, 7 days a week, and 365 days a year. Most of all, virtual receptionists allow you to take the pressure off of your business, allowing you to focus on what you do best.