Residential Real Estate Answering Service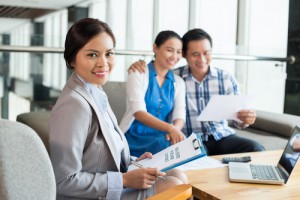 Prospective homeowners require a lot of attention. Buying a home is a very important, very challenging, and often very expensive decision. The first place many buyers turn is to a real estate agent— this means that making a good first impression is a must for a residential real estate agent. It is important that potential buyers find you available for questions trust that you will be with them through every step of the buying process. Building rapport with buyers is how you keep clients and earn referrals.
Hiring a residential real estate answering service ensures that every prospective and current client call is treated as your most important client. Avoid missing important counter-offers, final offers, or new client calls. Your level of customer service shouldn't suffer just because you're providing undivided attention to clients during showings. Having a professionally-trained and experienced real estate answering service taking your calls gives you the ability to devote all of your attention to the clients in front of you while trusting that the clients that you are not with are being equally well cared for.
Let our answering service agents be the one to greet your clients on the other end of the line. A live person will enthusiastically welcome every client who calls your business, and they will maintain the same level of service you associate with your own brand. Whether you are a small business or large, we can help set up that great first impression and be your clients' lifeline to you. Allow our answering agents to help handle your calls, resolve buyer and seller problems and close your sales.